I am looking for a Kim Tae Hee fan who is very familiar with all or if not most of her works and is able to do a write-up for her just like the excellent piece written for Seol Gyeong Gu below by www.koreanfilm.org, please get in touch with me by commenting on this post below if you think you want to have a go at it, thanks.
Quarrel (2007)
Voice of a Murderer (2007)
Cruel Winter Blues (2006)
Lost in Love (2006)
Another Public Enemy (2005)
Rikidozan: A Hero Extraordinary (2004)
Silmido (2003)
Jail Breakers (2002)
Oasis (2002)
Public Enemy (2002)
I Wish I Had a Wife (2001)
Gingko Bed 2: Legend Of Gingko (2000)
Peppermint Candy (2000)
Rainbow Trout (1999)
The Bird Who Stops in the Air (1999)
Phantom: The Submarine (1999)
Girls' Night Out (1998)
Love Story (1996)
A Petal (1996)
and a write-up from
www.koreanfilm.org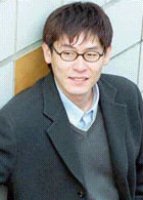 Sol Kyung-gu
(b. May 1, 1968) studied at Hanyang University Department of Film and Theater, and upon graduation appeared in numerous theatrical productions. In the mid-1990s he began taking on minor roles in feature films, but it was not until 1999 that he made his breakthrough with major roles in
The Bird That Stops in the Air
,
Rainbow Trout
, and above all else,
Peppermint Candy
. The critical acclaim and larger-than-expected popular appeal of this film instantly transformed Sol into one of the most respected young actors in Korea.
After the rather heavy-themed work of his early career, Sol then appeared in a mix of genre movies and more serious work. He starring in the romantic comedy
I Wish I Had a Wife
with Jeon Do-yeon in 2001, and then acted in a Japanese TV drama produced by NHK.
The year 2002 was huge for Sol, starring in three major films which effectively made him into one of the most popular actors in Korea. As a violent police detective in
Public Enemy
he won both local acting awards and many new fans as the film drew close to 3 million viewers. In August, he starred in Lee Chang-dong's highly acclaimed third film
Oasis
, which won the Best Director Award at the Venice Film Festival, and which won him yet more acting awards in Korea. Finally in November, he acted together with Cha Seung-won in the smash hit
Jail Breakers
by popular director Kim Sang-jin.
Sol continued his hot streak in 2003 when he starred in
Silmido
directed by Cinema Service founder Kang Woo-suk, which became the first Korean film in history to gross 10 million admissions. His next role was as the title character in
Rikidozan
, about the legendary ethnic Korean pro wrestler who became a national hero in Japan in the 1950s. Sol gained 20kg for the role and also delivered 95% of his lines in Japanese. Despite winning great praise for his performance, however, the film vastly underperformed on its local release.
In 2005, Sol starred in the sequel to Public Enemy (
Another Public Enemy
), which ended up outgrossing the original, and also signed on to star in a melodramatic love story together with Song Yoon-ah (
Lost in Love
).
(note: after tht he went on to do

Cruel Winter Blues

in 2006 which didn't do tht well but received good reviews on the acting etc, and most recently, he appeared in the hit February 2007 movie

Voice of Murderer

based on a true unsolved kidnapping case)