and the age gap could be even bigger than the one between the pairing in Ssawoom!
In 2006 alone, there were a couple of Korean dramas I came across and some I really loved which paired up a much older man with a young lady. Two of the couples had a 12-year age gap in real life just like the main actors of
Ssawoom
. The thing is, even then, although initially alot of us wondered how it would all work out, effortlessly they did. We watched them, skeptical of the pairings at first but still we fell for the couples. The age gap wasn't a problem & didn't bother us at all. The 2006 dramas I was referring to are:
1) Alone in Love (SBS)
Gam Woo Seong (1970) & Son Ye Jin (1982) ~ 12 years
2) Jumong (MBC)
Song Il Kuk (1971) & Han Hye Jin (1981) ~ 10 years
3) Mr. Good-Bye (KBS2)
Ahn Jae Wook (1971) & Lee Bo Yeong (1981) ~ 10 years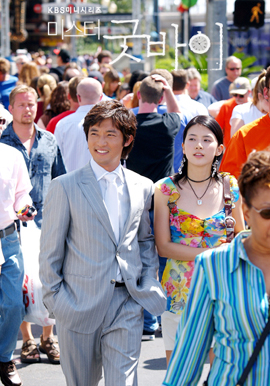 and last but not the least, my favorite of them all
4) Bad Family (SBS)
Kim Myeong Min (1972) & Nam Sang Mi (1984) ~ 12 years
then we heard the news of Ssawoom bringing together

Seol Gyeong Gu (1968)
and Kim Tae Hee (1980)
in addition, now on April 23 2007 comes out news that the outstanding actor Song Kang Ho (1967) has been casted in director Park Chan Wook's next work 'Bat' and that SKH will be paired up with Kim Ah Jung (1982) if she decides to take up the role. that would make it a 15 year age gap between the couple! there are already views that SKH & KAJ will make a gorgeous pairing not inferior to that of
Ssawoom's Seol Gyeong Gu & Kim Tae Hee
.
Song Kang Ho
Kim Ah Jung
info extracted frm:
here
(in korean)
pics credit as labelled + google + hancinema
translation credit http://ssawoom.blogspot.com